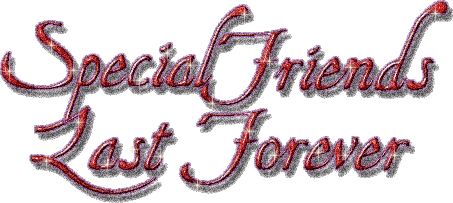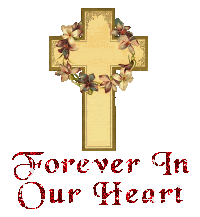 Peggy

, beloved Service Dog, went to The Rainbow Bridge on 7/13/06, she was 11 yo. A loving, loyal, family member that is missed by all! This world, & esp those with disabilities, are so fortunate to have animals like Peggy. She was indeed a gift from God.

Bob

, she waits, for that day when you'll join her. She's at peace. God bless.
Penny
lost her beloved
Dufus
(a 4 yo Sun Conure) & mate
Rufus
(a 15 mo old Enday Conure). They were killed by a stray dog on 6/5/06. She says Dufus was her soul mate. They are flying free at The Rainbow Bridge, I have no doubt you will see them again dear.
Deepest sympathy to

Jeannette

, her beloved

Pip

went to The Bridge on 1/05/06. He was indeed a special friend, & holds a special place in his families hearts. There will never be another quite like him. Those in 'J-Land' become to know & love dear Pip through the blogs that J wrote.

Jeannette also lost

Flicky

, who was 24 yo when she went to The Bridge on 3/26/05. She was found in a plastic bag & the only one of her litter mates to survive. Remained always small, but a good companion, & a friend to Pip. They're watching now for Jeannette, while romping through the grassy meadows.
Rocky
was on a walk with his dad, when he pulled out of his harness & ran off, he was hit by a car & passed away 1/14/06.
Gina
says he loved to curl up in your lap & was great with kids. He was 6 1/2 mos old when he went on his trip to The Bridge. Condolences to the family.
Vamp
lost her beloved

Cleo

on 6/28/06, & blames herself for not getting her to the Vet in time. Don't fret dear, God has a plan & we're all in it! You did what you could & you loved Cleo while she was here, she's happy now & at peace. Also, Raki, is missing, having wandered off in March after a move to a new home. May God Bless. And if he's at The Bridge, he's with Cleo!
Gizmo

left for The Rainbow bridge in 2003, at 10 yo.

Spooky

made the trip in 2006, & was 19 yo. Both were dearly loved & still are! Have faith
Regina
, they'll be purring for you again one day.
In Dec '05,

Pepsi

went to The Rainbow Bridge. She was 13 yo, a great watch dog & very loyal. Her name came from the old Pepsi commercial "Gotta have it", because when
Maria
saw her, she said "gotta have her". She is pain free now, running & playing like a puppy at the Rainbow Bridge.
Dear

Poco

passed away 2/17/06. She was a true companion, "liked to eat your pretzels & drink your beer"! She always had a smile & brought joy to all she met. Her mom
Dwana
knows that Poco is in a wonderful place, free of all pain! Wonderful memories will be with you until you can be together once more! Condolences.
Jeannette

, l
ost her sweet "

Pussy

" on 3/29/06, a beloved cat of 15 yo. He went peacefully at home. We animal lovers know that Pussy is playing like a young kitten @ The Rainbow Bridge!
Tootsie
, 16 yo, ran away from home 4/06, & was hit by a car. She was the sweetest girl ever! Loved by the entire family & dearly missed. Condolences to
Sharon
. But have faith, you will see her again, & never be parted.
Lois lost her dear longtime friend

Babe

on 8/13/06. They took a ride together almost every morning. She says Babe loved apples, & could never get enough. She's at the Rainbow bridge now, eating her fill from a huge apple tree. Sincerest condolences.
Billy

who was

Jan's

G

randdog, took that journey on 7/4/06. He is loved & missed. She says her daughter was devastated. Find peace in knowing he is no longer in pain, & is happy with new friends, waiting on you.
Lionel

, was loved by
Nancy
, but it was time for him to make his trip to The Bridge this year 2006. He will always be remembered & loved. May you be comforted in knowing that God has a place for our beloved pets & that someday we'll see them again.
Connie
misses her dear

Xena

, more than words can say. She went to the Rainbow Bridge on 8/22/06. She was so very loved by the family, & will remain in their thoughts & hearts forever. She went to join

Max

, who made the trip a few yrs ago. I picture them now, running & playing together, happy, & free from all pain!
Sugarbaby

took the journey to The Bridge on 4/22/06.

Adrienne

says she misses him so. He would ring a bell to go outside & could actually voice several words! Her love for him is as strong today as it always was, & continues to keep him forever in her thoughts. Just recall ALL the happy memories & know that he'll be waiting with a waggin tail when he sees you someday!
Skittles

, neighbor cat to
Angie
...

was hit by a car & passed away on 11/8/06/. He was fur baby to

Teresa

& her family, but Angie says he was a frequent visitor to her house, & her family had also "adopted" him. Our condolences to the family & friends. He'll be peacefully meowing at The Bridge now.
Condolences to

Billie

, her beloved

Crystal

went to the Rainbow Bridge on 8/8/06. But Billie says she knows her sweet girl is in the arms of Jesus, & is running & playing like a pup again. Has met her older sister Panda who was there & waiting. Can't you see them now Billie? Happy, rolling in the tall grass by a clear stream. No pain, only good times...waiting for that day when they'll be reunited with Mama!
Felix

took the journey to The Bridge on 12/25/06. A handsome fur baby loved by

Jules

. He is missed more than words can say! She says she lost her best friend, little love, baby, & soul mate...all in one. Jules, have faith, know that someday you'll be with him & again, hearing his soft purr get louder as he sees you approach.



Snickers

was a beautiful young pure bred lab rescued by

Amy

in Alaska. She only lived for a little over a year but what memories she created. Such an adorable little girl,
she was known as "baby girls". Snickers will be missed and loved by everyone forever. May we wish her the best journey to the Rainbow Bridge. Your Mommy loves you! 6/26/07 R.I.P.
Gina
& family are saddened by the loss of

Puppy Rambo

on 7/23/07. He was only 2 days old & weighed 5 oz. God needed a baby fur for a lonely mother furr at the Rainbow Bridge, & picked this wee one. So, he's there now, being well looked after & making a mama furr very happy.
PLEASE CONTINUE SCROLLING DOWN...